CS 1.6 Servers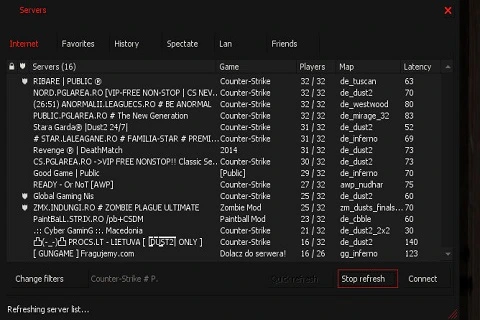 Counter Strike 1.6 Servers are a place for online gameplay, where players join to compete among themselves or in teams.When you download our counter strike 1.6 edition you can find cs 1.6 servers to play on internet tab.You can sort the servers by players,ping, map and you can join your desired counter strike 1.6 server.Counter-Strike 1.6 servers offers a lot of gameplay mods and maps to play like public mod, csdm,surf,deathmatch,knife only,paintball,zombie,capture the flag,hide and seek.warcraft,gungame,socerjam and a lot of other mods.You can also play very nice and popular counter strike 1.6 maps like, de_dust2,de_nuke, de_train,de_inferno,de_mirage,de_tuscan, cs_assault or smaller maps like fy_snow, fy_pool_day,awp_india and many more.All cs 1.6 servers are good. One cs server is distinguished by its uniqueness, the other server has a huge number of players.The public server is the classic original Counter-strike 1.6 server that has the greatest popularity. The purpose of this type of server game is counter-terrorists fight against terrorists.Depending on the type of map, CT (counter- terrorists) have to neutralize the bomb, save hostages and T (terrorists) to mine the base or to kill hostages.Time is limited by server settings. Counter-strike 1.6 is a good server that attracts many players, is unique and fun.The client can find the good and desired servers counter strike 1.6 through the Find servers list.
You can find cs 1.6 servers in our Counter-Strike 1.6 Editions Internet TAB.
We have very good and full servers cs 1.6 such as Public, CSDM, GunGame, DeathMatch,Capture the Flag,Surf,Awp Only, Warcraft. Only Dust2.
If you want to join and play cs 1.6 online visit our website and download cs 1.6, then you can play on our cs 1.6 servers,compete with other players,chat,make friends,win rounds make scores, and be the best player.
---